There is only one name for your holiday in Favignana
HOTEL ISOLA MIA
---
In the luxuriant vegetation and white tuff stone of Favignana stands the Isola Mia hotel just 350 metres from the village and 400 metres from the magnificent beach of Lido Burrone, with its crystalline and inviting waters.
The strategic position of the hotel makes it the perfect place from which to easily reach all the other wonderful little bays that dot our island like pearls of a precious necklace.
The Isola Mia hotel in Favignana has 9 rooms, all located on the ground floor and equipped with a patio, modern bathrooms with glass shower cubicles, Mediterranean style furniture, air conditioning, TV, fridge and Wi-Fi.
The hotel breakfast, which is always rich and abundant, is served in the bright common areas which include a terrace with trees and a raised solarium with sun loungers for your moments of relaxation.
Free parking is available to all our guests, and beach towel sets and umbrellas, irons with ironing boards and hair straighteners are available free of charge for all our guests who request them.
Last but not least, on the day of check-out we offer a free luggage storage and shower service. Your holiday has never been so relaxing.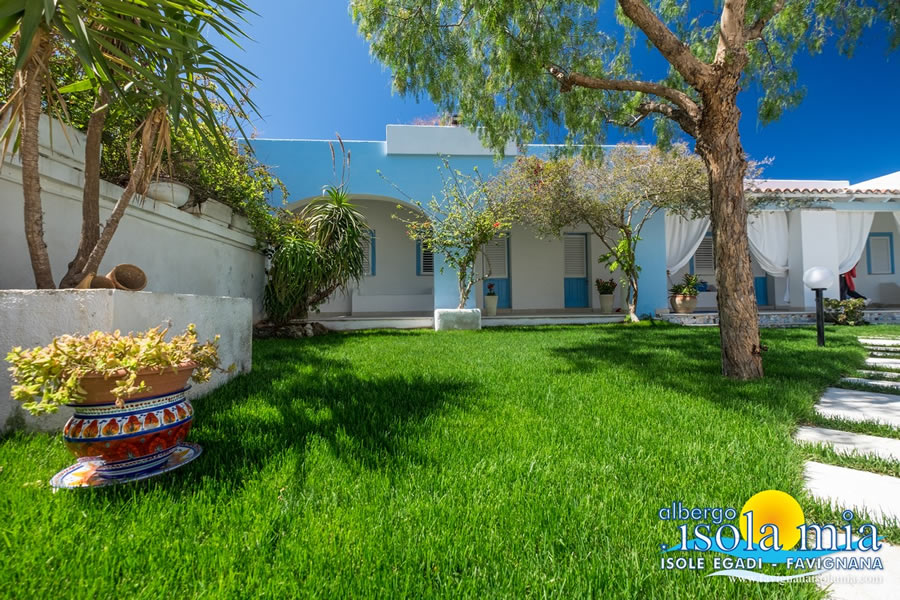 One hotel, lots of agreements with partners!
---
Hotel Isola Mia in Favignana offers you a holiday full of fun and relaxation. Starting from the port of disembarkation, where you will find partner companies from which to rent bikes, scooters, cars and who will carry your luggage directly to the hotel.
Our hotel is also in partnership with companies on the island offering boat rental services, boat trips, guided scuba diving with the issue of licences, and is also affiliated with the best restaurants in Favignana.
BOOK NOW!
---